Here at Stay Revy, we love our furry friends as much as you do! We understand the importance of having pet-friendly properties that way your pets can enjoy some time away with you. Over the last year, we had 70% of travelers inquiring about bringing their pets on holiday with them. So, along with offering pet-friendly accommodation, this has also led to us deciding that we wanted to share with you our local knowledge about the pet-friendly spots, shops and other helpful tips when visiting Revelstoke with your pets.
Dog-Friendly Hikes
Exercising your dog whilst on your BC vacation is a great way to get out and explore many of our beautiful walking trails. There are a few hikes that are nice and easy that we are sure your pet will love. My dog, Mac, pretty much runs himself up Mount Cartier now.
Cartier Lookout – A 5 km hike to a fantastic view of the Columbia Valley. This is definitely an adventurous hike with a gradual uphill most of the way. There are a few creeks along the way, but make sure to pack extra water for yourself and your dog. There's a mountain bike trail that runs alongside the trail for a little while at the beginning, keep an eye on them if they tend to run after bikers. This is a dog-friendly hike and your pets are allowed to be off-leash.
The Greenbelt Loop – This is a really easy walking loop around our downtown core. I would recommend going to one of our many amazing coffee shops, grabbing a coffee-to-go and then heading over to the greenbelt for a morning walk. Dogs need to be on a leash, but this is a very lovely mellow flat walk. This loop is also stroller, wheelchair and pushchair accessible.
Begbie Bluffs – The Begbie Bluffs trail is another amazing walk/hike to take your pets on. It is about 1 hour 30 mins and takes you to another incredible view in Revelstoke. Your pet is allowed to be off-leash and can explore the area with you.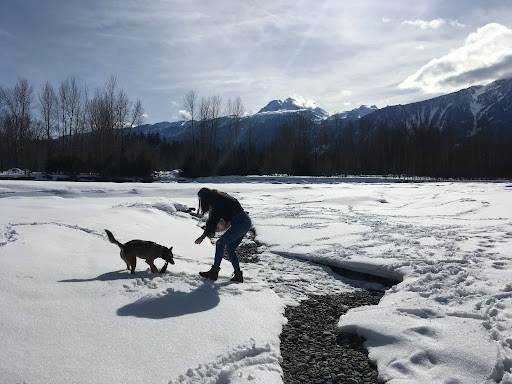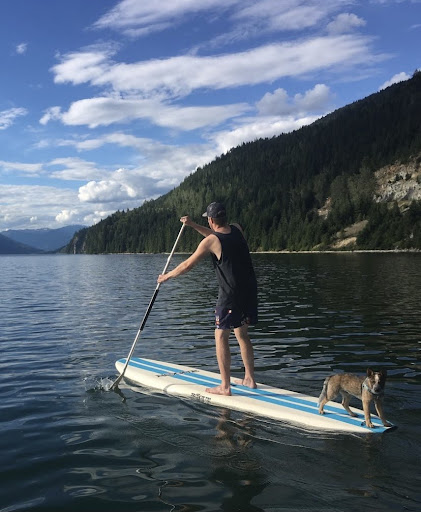 Activities
We have two farmer's markets in Revelstoke, both allow dogs as long as they are on a leash. This is a great activity for the whole family to check out Revelstoke's abundant fruit, vegetables and local arts and crafts.
Revelstoke LFI Farmers Market – On Saturdays, between 8 – 1 located at Centennial Park.
Revelstoke Craft Market – The Arts and Crafts market runs at the same time, located next to Nomad's by the entrance to Revelstoke.
A day at Revelstoke Lake – A fantastic day out in Revelstoke is waking up and exploring one of our farmers markets downtown. Then head over to Le Marche, a beautiful, French-inspired deli that has a vast choice of cheeses and cured meats. Load up your picnic, paddleboards and the dogs and head up to Lake Revelstoke on Highway 23N. Either go to one of the recreational spots, or find an adventurous road heading towards the water and take a gamble. You can find your own slice of heaven where you can spend the day picnicking by the lake, and your pets can frolic in nature to their heart's desire. Make sure to pick up your paddleboard rentals from Fine Line Sup.
Begbie Brewery – Our local brewery offers a dog friendly patio. Make sure to get a flight to try all the different beers they have on draft. The Cream Ale is my favorite. Bring a game with you and enjoy the views from the patio, whilst your dog can sit by you.

Designated Off-Leash areas in Revelstoke – https://revelstoke.ca/499/Designated-Off-Leash-Dog-Areas-Map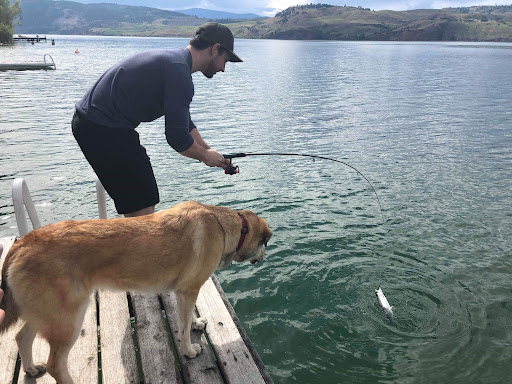 Doggy-Day Care
Stoked Sitters – www.stokedsitters.ca – This wonderful, local company provides dog sitting (and child care) to guests in Revelstoke. They will match a sitter with your furry friend(s), come to collect them and take them for as long as you wish so you can enjoy some much-needed free time. This can ensure that your pet is still getting the exercise it needs and can hopefully result in your dog returning tired and content.
Pet-Friendly Accommodation
Stay Revy has two vacation properties that offer pet-friendly accommodation in the Revelstoke area. So when you come on your BC vacation, your pet can come too. We look forward to welcoming both you and your pets here in Revelstoke, BC.
Revy Pow Pad – this dog-friendly accommodation is the ideal getaway for the type of group or family looking for their mountain escape. Located only a short 2km from the world renowned Revelstoke Mountain Resort, you will be jumping on your bike, or shredding the slopes in no time. A short driving distance to the vibrant downtown core of Revelstoke. Be sure to ask us about our favorite Revy recommendations! – https://stayrevy.com/vacation-rentals/revy-pow-pad
The Nest – With all the comforts of home, the Nest is a cozy, 2 bedroom, 2 bathroom condo with private Hot Tub, nestled into the mountains of Revelstoke. This brand-new condo is located just 3 minutes from world-renowned Revelstoke Mountain Resort, and just 5 minutes from downtown Revelstoke. For convenient access to both outdoor adventures, great restaurants and local businesses. – https://stayrevy.com/vacation-rentals/the-nest